North Uist 1970.
NORTH UIST EXPEDITION 1970
(15-16½ years)
Leader: Phil Renold
Camp Administrator: Peter Smith
Officers: Robin Dance, Alan Evison, John Houghton, John Nash, Peter Tatham, David Vale.
Boys: Rupert Abel, Peter Barnes, Rupert Bates, Peter Beresford, Antony Berry, Fraser Black, Ant Bowden, Michael Clarke, Nick David, Jonathan Fairhurst,
Michael Gallant, Jeremy Goff, Phil Gray, Ian Hitchmough, Nick Johnson, Stephen Kane, Andrew Lambert, Kwok Li, Jon Morgan, Rob Musgrave,
Bill Payne, Roderick Peers, Richard Ritter, Dickon Sandbach, Michael Strachan, David Stredder, Michael Wilkie, Andrew Wordsworth.
LEADER'S REPORT
For the first time the S.H.S. visited North Uist, quite a change for those who had been on that 'holiday camp' island of Colonsay in 1969. The island is one incredible mass of bog and loch with a very prominent rock ridge on the east coast, and is surrounded by numerous causeways, strands and small islands. Thus it was natural that boats played a most important role on the Expedition.
When we put that much maligned vessel the Rock Bottom into the water at Kallin my hopes were dashed for, as in past years, she leaked like the proverbial sieve. Luckily we had arranged, with Ewen Nicholson and Dougal, to take the equipment on the three-mile trip to the site so we were not stuck for transport. In addition to this most valuable service Dougal also promised to do what he could to the R.B., and it was after only four days and much hard work that he delivered her. Wonder of wonders, she hardly leaked at all! Since the outboard was in perfect working order she was used throughout the Expedition not only to collect bread and mail but also to transport bivvy parties all over the east coast. The longest trip was to Lochmaddy and back, a distance of 25 miles in a day. Without her we would have had to limit our activities very severely.
However, as reported elsewhere, it was not all roses with the Bottom. If I have a few grey hairs today they appeared on one or other of the two occasions on which John H got lost in her. I hasten to add that neither were his fault, being due to very bad weather on the first occasion and to a very strong tide race on the second. However, search parties were mobilised and sent out before he returned very late on both occasions.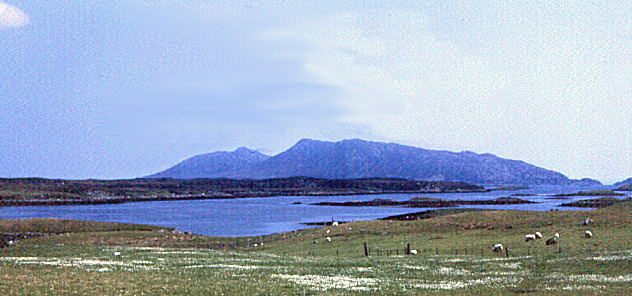 Loch Eport 1970, Taken from close to what then was the end of the road. North and South Lee in the background. © Copyright Anne Burgess
In addition to the R.B. we had a small boat, kindly lent by the estate which was used for ornithological and fishing trips. and to complete the Eaval fleet two double canoes which were kept on Loch Obisary and used, on most days, for pottering around, and also on one bivvy to the head of Loch Eport.
The site itself was situated on the coast south-west of the summit of the highest point on the island, Eaval (1139 ft. pronounced Ay-Val) at a cottage of the same name. We used the cottage, which had four rooms, for cooking, eating, drying clothes, storing food and equipment and for project work as well as a focal point for the Expedition. We slept in small two-man tents, each section of six boys using three tents, most of the officers having a tent each. The advantages of having a cottage were obvious when everybody and everything got soaked in the continually poor weather which we had to endure. We only had two or three days of good weather in the entire fortnight, and a couple which were described by the islanders as being as bad as anything they could expect in the depths of winter. In this respect, however, we were blessed with still dry conditions for both our arrival and departure.
Apart from canoeing and boating the most important single event was undoubtedly a project which has never been tried before on a large scale on an expedition. Guided by Robin and Alan most expedition members were persuaded to try their hand at drawing, painting or rubbing the most unlikely objects. No special lessons were given and it was left very much up to the individual to 'do his own thing'. The results were remarkably good, and thanks to Robins' efforts the projects room became an ever-changing gallery where we could admire and criticise each other's works. At the end of the Expedition a number of small prizes were awarded to those who had shown most interest and consistency. Also presented was the Ponders End Lavatorial Prize for Graffiti. The recipient must remain anonymous to save his blushes!

Lochmaddy, North Uist 1970 © Copyright Anne Burgess

During the course of the Expedition everybody went on at least one of the seven bivouacs. Some were more cushy than others owing to wildly variable weather conditions and energy of the officers leading them, but all were enjoyed if for no other reason than the escape from the main camp. Most notable were the first one to the Lees which entailed an extra night out for some of its members on a diet of a tin of sausages and rum fudge, and the two to Baleshare and especially the trip to see the dig at Udal, fifteen miles distant, as the fish swims.

Alan's archaeological project was another success due largely to his enormous store of enthusiasm and a vivid imagination which not only sustained his labourers but also the 'barp hunters' on their long return trip from Langass after they had failed to meet up with C.P.O. Houghton. We would like to thank Mr Norman Johnson for lending us his copy of that invaluable tome by the redoubtable Erskine Beveridge without which we might never have found many of the ancient monuments with which North Uist is so richly endowed.

One thing which the site lacked was a readily accessible place to rock climb. The nearest was on the shoulder of Eaval at a height of 800 ft. and a mile-and-a-half distant. However, Peter Tatham and Peter Smith managed to take nearly everybody out at least once. A trip was made to Ronay where the possibilities of Craig Mor were investigated. It was found to be of a much too high standard for novices but might be of interest to anyone willing to 'develop' it.

North-north east from Eabhal summit. The view from the rocky summit down towards Loch Obasaraigh, the far shore of which is followed by the path from Obisary. 25/07/2012 © Copyright Gordon Hatton
Dave carried out a rather ill-fated project on plankton.
Either he could not tie knots or else the string broke but after losing his carefully-constructed net as it was towed behind the R.B. he showed a greater preference for Egyptian P.T.'. However, since he also looked after the canoeing and took a couple of bivvies I really cannot complain too much.
For fishing enthusiasts the attractions of the site were obvious. On the one side was the sea; on the other were myriad lochs containing the most succulent brown trout, a number of which were caught. Attempts were also made to catch the salmon and sea trout with which Obisary abounded.
John N, making almost his first trip north of Stamford Bridge, bore the heavy burden of any Chelsea supporter with great courage and managed to assist in nearly all of the activities. I hope that he enjoyed his baptism by rain in the Hebrides. Last, but by no means least amongst the officers, was that great feeder of men, Peter S; his most notable achievement being the "officer's chat', a nightly event when all the officers made a pilgrimage to the kitchen to eat cheese and chutney butties in peace and quiet. However, his efforts would have been in vain but for the really excellent food provided by John Hutchison.
Talking of food, it is worthy of note that one evening, after a supper of macaroni and steamed pudding, all the boys accompanied by Peter T and Alan, ran up Eaval and back. Peter did the three miles and 1100 ft. of ascent and descent in thirty minutes dead! And the boys were not far behind.
Having said all this I must be honest and add that the Expedition was not an unqualified success. Whilst the site was a very good one in some respects it lacked a large scope for different activities. To the east was Eaval which everybody climbed at least once. To the west was an almost impenetrable maze of bogs and lochs. It was a very uninteresting walk of ten miles to the west coast. With a sailing boat equipped with an outboard in addition to the R B. and another two canoes the site could prove to be very good for a junior expedition. The situation itself is superb and is remote yet only half-an-hour boat trip across very well sheltered waters to the landing on Grimsay. Another expedition might prove even more successful now that the exploration has been done and the snags ironed out.
The second reason for calling the Expedition only a qualified success is that we lacked that elusive thing called 'Expedition Spirit'. Whether this was due to the small tents making us less of a single unit or because we had an almost total lack of musicians to lead the traditional evening sing-songs I do not know. Whatever it was the Expedition never quite achieved true cohesion.
In conclusion, I should like to thank Lord Granville for letting us use the site. Especially I should like to thank Ewen Nicholson for letting us use the croft and for all his help and advice on a multitude of matters. We met so many islanders who were so very friendly and hospitable that it would be impossible to name them all. I hope that we shall return to see you all again soon.
-PHIL RENOLD
Below is a memory from David Stredder:-
"I suspect you may be right about the demise of the SHS,
health & safety etc. Recorded in the report of the North
Uist expedition [p35 1970 report] was a nightmare overnight trip by canoe & walking that I went on with a planned bivvy but the Hebridean weather with horizontal rain turned it into an endurance trek & we were lucky it started after we had parked the canoes and found a welcoming school house to stay the night. Same weather on the return. More than 40 years later I still have a vivid memory of it!"
David Stredder Jan. 2013