I was delighted to receive the attached photos from Tom Abbott, son of the leader John Abbott. When I embarked on this endeavour I never dreamt I would be able to find photos from the very first SHS expedition, so thank you John and Tom. More pictures to be uploaded later.

Nick Smith

David Leathley 11:40 AM 08/02/2019

"I did indeed do Gometra in 1962 and the photos bring back so many happy memories I also did Rhum in 1963 and S.Rhona in 1964. The concept and the construction of these expeditions was beyond compare. I was influenced by all that went on and I still talk about the events (particularly the wind!) with great affection. I was taught at Lawrence House by John and he was one of those figures that stand out in my life time.Ē

GOMETRA EXPEDITION 1962 LEADER'S REPORT
This year's expedition to Gometra was the first of its kind to be undertaken by the Society, and it was therefore something in the nature of an experiment. Experience of expeditions had been gained from Rhum in 1959 and Raasay in 1960, but both of these had been on a far smaller scale.
The organisation of the expedition, and the formation of the Society, called for a great deal of work and goodwill from numerous people; and it was a spirit of happy co-operation that set the key note to the expedition. I am sure that all of us who took part will remember it as a time of great enjoyment caused by whole-hearted co-operation.
The many and varied activities which were incorporated into the programme all served to increase the general enjoyment of the fortnight. Contrasting weather conditions gave us the chance to put the administration and amenities of the camp to the test. Arriving at Gometra in the middle of a gale was an unpleasant experience for most of us; but the three days of high winds which blew down five tents served very well, 1 think, to test and confirm the morale of all concerned.
I should like to express our very real thanks to Colonel and Mrs. Howard and Lady Congleton, not only for allowing us to visit their islands, but also for providing us with so much to make our stay more memorable. We arc also extremely grateful to Lady Redesdale for so kindly entertaining fifteen of us to a magnificent tea when we visited Inch Kenneth. We were most fortunate to have a really interesting lecture on the history of the area from Mrs. Betts, the archaeological officer for the district; and to receive a visit from Mr. W. E. Heard, onetime Headmaster of Lawrence House Prep. School. We were honoured and delighted to receive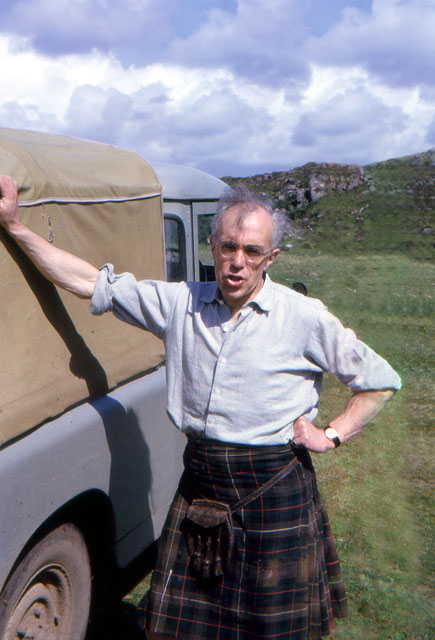 a visit from one of our Advisers, The Lord Bishop of Norwich, [Sir Launcelot Fleming. Ed] who celebrated Communion for us and took one of our daily evening prayers. His practical help in the re-establishing of the camp after the stormóas well as his ability to play rugger in a kilt!-made us feel his two-day visit to be far too short.
The success of any expedition depends on the goodwill of every individual present; and I can conclude in no better way than by expressing my very sincere thanks to all the officers and boys for making the expedition such an overwhelming success.
John Abbott
The Lord Bishop of Norwich