LEADER'S REPORT
Leader's Reports invariably manage to suggest a totally trouble free expedition, but it would be to give a very unbalanced report of Harris '66 if the need to tame adversity were not mentioned, because that represented one of the achievements of the expedition. Certainly we were granted fair weather throughout, except on the first and last nights when it mattered most and the wind blew and pulled the marquee out of the ground. Other gremlins included Black's or British Rail, for we had no marquee pegs, and it was small consolation that night to reflect that even their arrival would not have saved us in such peaty ground. All in all, it was fortunate that the expedition lasted for more than a week, and the evil spirits were able to perceive that the Schools Hebridean Society has apparently unlimited funds of endurance and spirit, and that all its members greatly love the Hebrides and their inhabitants. Rather than risk a signal and humiliating defeat at our hands, they swapped sides and for the last week the expedition was trouble-free. Indeed, the lull in the storm when we left lasted for only the necessary few hours, and visibility clamped right down again, which would have made it impossible for the boat to take us off. Oscar Wilde assumed that Providence can resist temptation by this time; perhaps, but Harris certainly disciplined her to some extent! Fundamentally the expedition was experimental, in that the chosen site was in the midst of a small crofting community of under twenty people. The settlement of Rhenigidale was chosen by two of the Society's more determined individualists over Easter, largely because it possessed that luxury of East Harris—level ground! The community itself is situated at the south-west end of Loch Seaforth, and is accessible by mountain track from Tarbert, although all the equipment had to be brought round by sea. The site itself was reasonably sheltered from all directions, and its beauty and isolation provided the charms to which old hands were already familiar. What was new was the question of the local people. Would it prove to be a hindrance in any way by not being the usual self-contained and independent camp, able to follow the whims of its own wishes?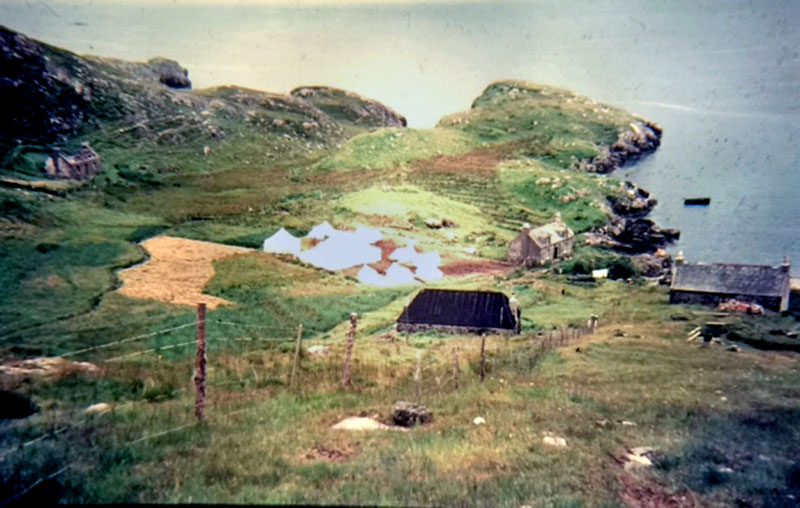 Photo of the Rhenigidale site taken and others sent to me by Archie McKellar.
Hello Nick
I had a blast from the past moment when, in an idle moment, I typed in SHS and found your pages.
I read about my fame at having observed a Chough on Rassay above Brochel Castle camp site all those years ago in 1964 (page 32 of the report)
The famous tide pole at Rhenigidale brought back memories but I wonder if you have a copy of the results of the hydrographic survey that we did under Mr Harris's leadership ?
I have attached a copy which I hope might stir a few memories for anyone who was there. My memory for names is poor but I know a few of us spent many happy hours in the boat with sextants and depth sounder.
Archie McKellar
Not bad considering the expedition was just on 50 years ago, and exactly what I'd hoped for, Archie had typed SHS into Google and found the site, now 50 years on we have photos of this trip.
Thanks everyone for your continued support, dig out those photos and help populate the rest of the expeditions.
Nick Smith
Certainly there were a few minor difficulties over trifling things such as water and wood, but these were generally solved easily and the basic truth is that to be part of a community added much worth to our life: all the time there was the contact between two very different cultures, both of whom respected and wanted to like the other. The result was that for two weeks we received every imaginable help and kindness from the crofters, and learnt much in helping them with hay cutting, peat carrying and all the other vital tasks of their near-subsistence existence. The effect of other values, and the results they had in all our lives, was well reflected in the second Sunday of camp. How we enjoyed that quiet day, following our own individual wishes and wants. Let those who will, rant against the Highland Sabbath: to us all, I feel, nothing seemed more natural, in such a routine life so close to nature, than to cast aside everyday cares and allow the Harris hills and sea to remain undisturbed. The message was clearly there for those who can experience it; to have shattered such peace by noise and commotion would have been thoughtless sacrilege. On matters more related to the Society as a whole, it seems right to view the third year expedition as having the responsibility of making the break between the "holiday" of junior camps and the serious project work of the senior expedition. I hope that everyone felt that Harris '66 created the atmosphere and opportunity in which all the boys were able to explore the various ways of passing the time and thereby getting maximum benefit from the Hebrides. Certainly everyone had the chance of a wide range of project work, and most took it! The sociologists and geographers amassed information galore about Rhenigidale and the immediate surroundings, including maps of the extensive lazy bed areas, many of which were still in use. Sociology in some ways involved us all, whereas botany was rather more a specialist task, but Ken Hunter not only picked incessant flowers, but also beautified the marquee and made some exciting finds in a part of the world so often regarded as barren and windswept. Trees were found in great numbers in parts, even occasionally with honeysuckle around them, and there seems to be a chance that we may have found a strawberry tree—previously unrecorded wild outside Ireland. The ornithologists had much to identify, and those who visited the lochan above camp where the red-throated diver and its chick were in residence throughout our stay, saw a sight few will forget. From such pacific past times, admiration must be expressed for Liam, who succeeded in allowing boys up rock-faces without a toe hold in sight, or so it seemed to a far-from-happy leader! Much of the rock around camp was rather crumbly, but the climbers were able to erect the tide pole for Steven, when he was not engaged in conducting the hydrography with naval discipline. Great work was done from the boat (how wonderful to have one at last!) and the art of charting the nation's waters engrossed us all. Rumours that the leader was incapable of reading a sextant can, of course, be discounted quickly as malicious gossip.
Not that we were in any way confined to our corner of Harris, and various visits were made to places afar. Chris Gascoinc-Hart headed west with a trusting band of energetic admirers for distant Scarp, where we hoped to recover the climbing rope and " Racasan closet" left behind last year, but in the best spirit of Compton Mackenzie's islanders, they returned empty handed, having had a splendid time, spent a fortune, but failed to unearth the hiding places of the fairies who spirit these things away. Towards the end of camp Chris Ross left to visit Scalpay in the boat with a collection of gigantic characters and found a most different and prosperous island, upholding, it appeared, much of the commercial prosperity (?) of these islands. Both these groups stayed away for two nights, but Liam and David Evans, joined by Charles Jackson, James Edwards and other stalwarts, climbed the Clisham in a day; a commendable feat, and the S.H.S. has at last viewed the Outer Isles from their highest point. Talking of climbing reminds one of the walk to Tarbert, which almost everyone must have dared at some time or other, to fetch some essential commodity from bread to beer. On the day of the Tarbert Show many headed for the sights, David Evans reaching the other end in 1 hour 23 minutes, a fine effort, particularly when announcing "Are you the Rhenigidale boys?" all the way! Sadly, few of us reached the show, the main reason being the incredible hospitality of the locals in the Harris hotel. Poor Graham Scothern recovered in comfort at Stornoway hospital (very bad luck, that); Chris Gascoine-Hart taught us some amazing songs which we sang surrounded by Archie McKellar's furniture, although the piece de resistance had to sit in a tent by itself.
Hello again Nick,
Sorry to intrude after all these years, but here is the launch presentation photo:-
The wonderful luxury latrine bog seat at it's inaugural presentation to a cross legged waiting clientele.
Shame you can't see the wonderful craftsmanship details that went into forming it from an old dining chair, a broken spinning wheel and the obligatory four inch nails expertly applied in the traditional (at any camp I attended) "L" shaped format beloved of the ham fisted hammerer.


Richard Fountain (I'm sure was the leaders name) nearest the camera and the other blokes names elude me for now - sorry!


Archie McKellar
The Doctor pulled us back to health with liberal quantities of banana juice and thereby helped us to enjoy the magnificent cooking of Oliver Parker and others. So many events stick in the mind—Bill's and Fred's beer chase, with the whole of camp streaming to greet them up the hill, Gavin's archaeology (was it Woolworth's china?), the World Cup, and the last sight of William Temple blocking British Rail's lines of communication with Edinburgh at Glasgow by a runaway barrow. Nor will I forget Steven's penny whistle at prayers and elsewhere, all adding up to yet another wonderful store of memories and friendships. Yet another expedition, so similar and yet so different from the others, from which benefit is gained by such a variety of people. My thanks go to all the officers and boys, for their zestful gaiety and tolerance of myself, to Major Sir Hereward Wake, Bart.. M.C., for allowing us to camp at Rhenigidale, Doctor Wood of Tarbert for visiting the camp and handing over the medicine that killed the "bug" so quickly, and very especially to George and Sheila Newhall at Stornoway, without whom so many Outer Isles expeditions would have run into considerable snags at times, I suspect. I leave the inhabitants of Rhenigidale to the end, for they were the inspiration of us all, particularly all the MacInnes's, Duncan and Mrs. MacInnes and Finlay who led us night fishing, and Roddy, whose hay field it was that enabled us to be there at all. I hope they all realised how grateful we were for everything.
Alan Bateman
A .pdf copy of the hydrography survey can be opened by clicking the hyperlink above or here. SURVEY use browser 'back button' to return here.