Corpach Bay Biyvy.
Members: Ryan, Andy, Kevin, Sam, Mouldy.
Leaders: Simon, Ernie, Phil.
The day we set off was a sunny and fairly hot Sunday (for a change).
The group should have set off around midday but the trouble was no-one wanted to do a route-card and Rob would not let us go until we had. Eventually, several of us were "persuaded" to complete it although I was a little concerned about our time of arrival… 'midnight'!!! We finally started walking about l-45pm. We flew (clever people! - Ed) up Ben Cruib in about half the time shown on the route card and headed for Rainbeg Nor where we found a tiny stream which had thousands of really small tadpoles (thousands — did you count them ALL?? - Ed) in it. We then walked up and over Rainbeg Nor which was a bit of a pig as it was still very hot.
Corpach Bay, Jura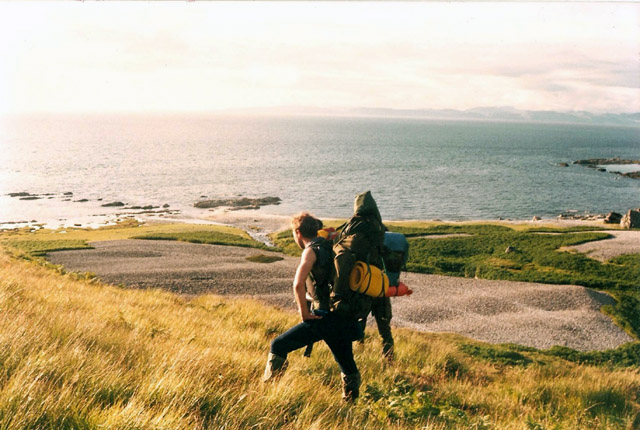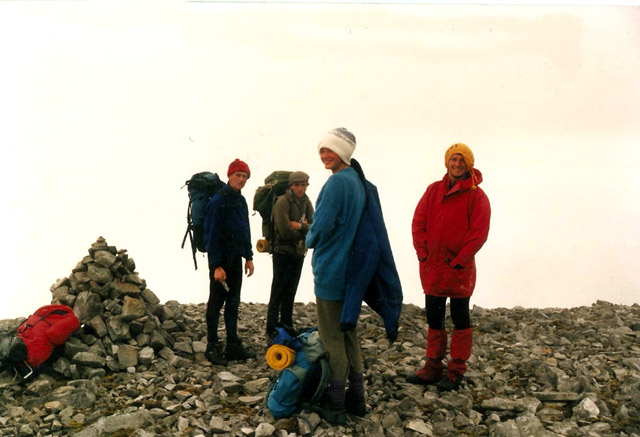 The Paps bivvy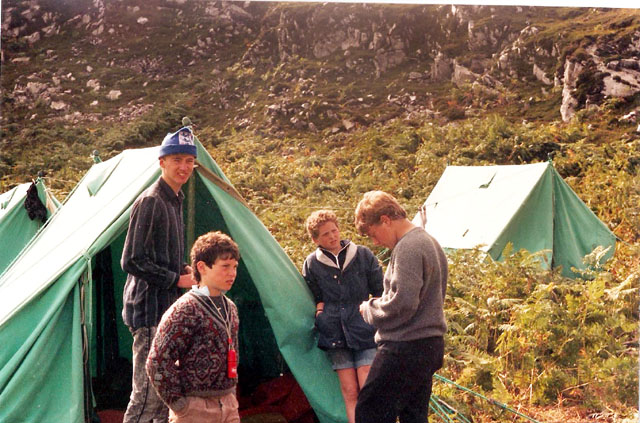 Tents in the ferns. (Chris Bohin - right)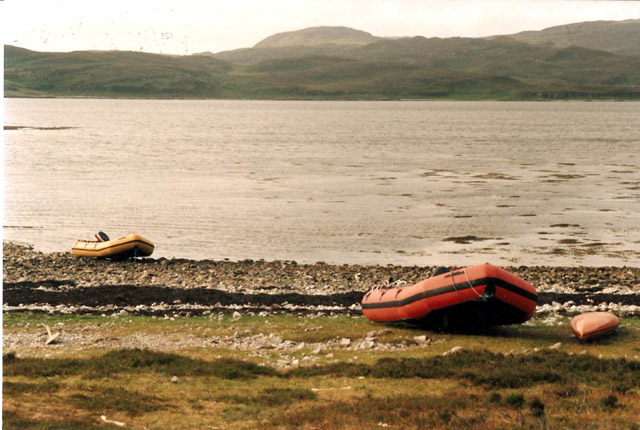 "Bodies to the P4"
Diary of a Paps Bivvy.
Thursday 4th August.
Five of us sat within view of a white, sandy beach, one hot (??) August lunchtime The place was Glenbattrick, and we were eating our sandwiches before embarking on a bivvy to the Paps. As we set off, the weather was good (for Jura standards) — cloudy but dry. The Intrepid group was ably led by Simon "Veteran of the Paps" Lorimer, with Andrew "Mouldy" Ward, Rodney "Lighthouse" Moran, Ian "Roddy" Robinson and myself.
Having walked along the beach and ascended a short distance over boggy ground, infested with pleasantly perfumed sage (not Jo and Gary?? - Ed) for an hour, we were ready for a well-earned rest. To the call of "Take Five", we all immediately collapsed and rested for ten minutes!!
The weather had already deteriorated and, as we climbed further, we soon found ourselves in the mist. Visibility was very poor so we spent the rest of the day walking on compass bearings. We continued until we reached the col near Bienn an Or and found a suitable bivvy site. Water on the boil for soup and the inevitable chicken supreme and smash!! It was at this point I became really worried — the chicken supreme tasted great!! The heavy rain and the cold sent us crawling to the depths of our orange bivvy bags or green goretex bags in the case of Simon and Ian.
At this stage, we had absolutely no inclination towards activity, and so settled down in our bivvy bags for the night ahead. Every once in a while, Ian would unzip his goretex and peer out to check that the three of us hidden beneath orange bags were okay. Stifling the occasional shiver, we assured him we were okay and he guiltily disappeared back into the warmth (goretex with built-in central heating??? - Ed). We then noticed that Mouldy was very quiet and we were worried until a resounding "Bodies to the P4" echoed around the Paps. ("Bodies to the P4" was one of Bob's little ways of keeping the camp on their toes)
At about midnight, Rodney poked his head out of the top of his bivvy bag and called over to me, and sounded slightly worried when he noticed I had disappeared from where he had last seen me asleep not long before. I had slid about four feet down a slope and was having such intense difficulty crawling back up the slope that I just gave up trying. Instead, I settled down to spend the rest of the night propped up against a pegged-out goretex bag to stop me rolling further downhill.
Friday 9th August.
Guess what? Really grotty weather again!! (so what is new?- Ed) I found my sleeping bag was saturated when I woke up, partly due to condensation, partly due to rain. The others had a similar problem so we tried, unsuccessfully, to air our kit before packing it. We cooked breakfast of porridge and crushed digestives, then decided to set off up Bienn an Or, the highest Pap, and give up any hope of conquering the other two.
We eventually got to the top, managing to admire the view for seconds at a time between the dense, drifting cloud, then we fell asleep in the rain. After an hour at the summit (asleep!!), we began our descent, on slippery rocks, stumbling frequently along the way (Jura whisky has this effect — Rob). Below the lower line of scree and rocks, we stopped for lunch, before asking our way down to the loch beneath. We then skirted round it on higher ground in an attempt to avoid the really soggy ground.
For the whole journey, we were entertained by Mouldy's enormous repertoire of songs, and even more amused by his angelic voice (only joking!!). After several rowdy renditions of SHS songs, and a few miles later, we had reached the forest, all that lay between us and the road. Mouldy and Rodney decided on the direct approach, straight through the forest whilst the rest of us took the easier route around the edge. We walked a short way along the road and then sat at the roadside to wring out our wet socks.
A welcome vehicle approached, with Mouldy and Rodney inside - as they had been picked up as they emerged from the forest. Thankfully, the driver stopped for us too, and we all piled into the back of the land-rover and set off towards the exciting night-life of Craighouse, the disco and the ceilidh......but that is another story!!!!!
Heidi Albert