Mingulay I, 1975
Leader: Nicholas Deeley
Members: John Adams, Simon Atkinson, Tim Ball, Tony Bell, Ben Buxton, Peter
Cowley, Mike Dodge, Brinley Edwards, Pat Fox, Calum Mackenzie,
Craig Roscoe, Andy Simpson, Ian Smith, Ian Wright.
LEADER'S REPORT
The next time you meet one of those people who would have you believe that Paradise is a Utopian dream, a state of perfection unobtainable to mere mortals, nod sagely and turn away, for far too many people know about Mingulay already.
Mingulay is perhaps one of the remotest sites that the SHS visits, and this character of isolation, together with the variety of scenery there, make it one of the best. I was not leading an activities expedition however ( as any member of the party will tell you) , but one where the primary objective was to enjoy ourselves. For many of us this meant the opportunity to do some original project work.
The origin of the expedition was the conference where I met many of the people who were to eventually come. Yet each expedition has also a spiritual origin, and I suspect that this had been developing in us for several years prior to the conference. After all the skills of living together are not easily learned and I was glad to have so many members who had been on expeditions for the past five years.
The events which led to the delay in getting to Oban could fill this report by themselves. However, when we finally arrived with all the food and equipment we added further confusion to that normally present on Oban pier. The food was hurriedly unpacked and then loaded into one of those red MacBraynes boxes and labelled to go... to Tiree! I could see it was one of those days.
In contrast the tranquillity on Barra was delightful, although as the Sound refused to calm down we were delayed. Eventually we left Barra and crossed to Mingulay, and, with the food and equipment moved from the landing site to the Priest's House, two days of activity and Inventiveness began. Furniture was built, pits dug, water laid on, and a flag devised to signal occupancy of the lats.
But what of Mingulay itself? There is little that can be added to this description by Donald Campbell written in 1967:
"A green grazed bowl, sand blown ruins, and a shingle sheltered bay at the centre of a semicircle of barren hills which soon end in superb precipitous cliffs and the Atlantic. Above all the lingering sense of its history of violence, poverty, and disease - of man fighting a losing battle against the elements - that is Mingulay."
Soon the days were flying by filled by the Mingulay Test Match, the 180 yd assault on Hecla, whaling in the Campari, - all were high spots. But we managed to find time to work as well, Ian on botany, Craig on animal behaviour, Tim collecting and recording the fungi, Si on marine ecology, and Ben mapping the village. Brinley drew while Calum and John did their best to catch small mammals for a survey. Tony did his best to catch larger ones for rabbit pie. I hope all our work will be on display at the conference where we should have enough space to set out our studies fully.
There is perhaps one activity that should be documented further. For the first time in over a century Mingulay saw the brewing of homemade beer. For several days the whole camp was devoted to seeing that it was kept at a high enough temperature to allow it to ferment. Amazingly fermentation was complete in six days and the brew bottled. After about ten minutes the first tasting session took place and it was declared utterly awful, earning the name 'Pooh juice' which it justly deserved. Attempts to persuade challengers to come forward to take part in the great "Pooh juice" drinking contest were not over successful. However, there was nothing in the rules to say how long the juice had to remain drunk. Peter Cowley was duly awarded the prize for managing a pint in about six seconds. It's not that he wanted to drink it that quickly you understand, but it is not wise to take longer over it than can be helped.
Very many thanks must go to Craig for doing an excellent job as Camp Administrator. His hard work meant that I could spend much longer in bed, and we did have faith in him, didn't we? I must also record my sincere thanks to Ian as medic, for his general assistance and common sense was vital to the expedition. Finally thanks go to the S.H.S administration for their work that made Mingulay I a success.
All good things come to an end as did Mingulay I, and four of us were to remain while the others departed. Well I remember watching so many new friends waving frantically from the rail of the 'lona1 as she steamed out into Castle Bay. A strange feeling of loss came over me and I stopped waving...because my arm hurt.
-NICK DEELEY

The camp site at Mingulay 1975, photo by Ben Buxton
Leader: Nicholas Deeley
Members:- Tim Ball, Nick Brown, Ben Buxton, Paul Coleman,
Andy Stone, John Taylor, Ian Wright.
If on the departure of some of my friends from Mingulay I was in a way sad this was more than made up for by the arrival of John, Andy, Nick, and Paul. They turned up to a ready made camp, and it must have been strange for them to come into a place that had so obviously been lived in. Yet we were determined to make them feel at home, and started off by carrying all the tinned food for Mingulay II round from the landing point to the Priest's House. We showed them with pride the little adaptations that made the house home to us, and smiled as they regarded them with curiosity. It was an odd thing to know a lot of Mingulay when they knew nothing. But we kept the secrets well, and let them discover the delights themselves.
The weather was not as good on MII as on MI for although it didn't rain much it was often misty which tended to spoil the fun of going on the cliffs. Yet while this may have deterred me it didn't stop them. John Taylor did the Three Peaks in 1hr 40 runs within a few hours of being there. Perhaps I should mention that this is not the marathon that it seems as it consists of three hills, Carnan 891', Hecla 700', MacPhee's Hill 735', making it a pleasant little stroll. You feel you have accomplished something and can get back for dinner the same day.
We had many visitors on MII. There were the yachtsmen who played the bagpipes over the water to us, Mick and Barbara, and the Olympic canoeists. All were treated to the delightful fiddle playing of John Taylor who kept us amused for many hours with endless reels, laments, and jigs.... and the theme music of the "Archers."
It has to be said that MII was more resourceful than MI. Within a few days our snaring technique had become particularly effective, and we all have good memories of rabbit pie. The weather may not have been as good but the project work continued. Ben continued his settlement survey, and Tim took to the gentle art of digging vast holes that he said were part of a soil survey. While all this was going on John Taylor was doing his own survey of the field system on the island, as well as some amateur archaeology. One day Tim dug out of one of his holes an ordinary stone that John set about as if demented. Evidently the find was going to revolutionise all Mesolythic archaeological research. The full account of this will no doubt be recounted elsewhere. For myself I am happy to say that the time I spent on botany was greatly enjoyed, and I managed to complete the survey started by Ian on the first expedition. Nick and Andy seemed absorbed by the ornithology, and Paul tried his hand at identifying freshwater invertebrates in the stream.
We also had two successful beach parties, and I don't think that I shall ever forget the eating of hot sausages in front of a large blazing fire, with the stars overhead, and John's fiddling picking out a lonely lament., an experience indeed.
Our departure from the island was, as you might expect, a sad occasion. Yet the disappointment that we felt was forgotten in the excitement on incoming waves driven by an on-shore wind with all the equipment having to be ferried to the fishing boat a few yards off-shore in a small dinghy. It was quite a tricky procedure, and I shall never forget the look on Tim's face as he watched several hundred pounds worth camera equipment being hurled through the air towards the boat. For a split second the camera case was heading for the grey water before a vast Hebridean hand grabbed the strap and hauled it to safety.
I must now thank Neil Sinclair for giving up his time, and transporting us to Mingulay. Thanks also to Mr Haggerty for bringing over letters and the bread. In addition the whole expedition would like to thank Lac MacLean of the Barra Sheep Stockholding Company for permission to camp on Mingulay. We were all very grateful indeed. I have not yet mentioned Ian Wright in the Report, and I feel that I must. His sound advice and good honour contributed much to the expedition's success, and his work as Camp Administrator on MII made my job a delight.
Perhaps I should also record here my appreciation for the generous support provided by the Nature Conservancy Council. I hope very much that the help and advice with which they have provided us will stimulate further project research, and broaden the interests of the Society as a whole.
-NICK DEELEY
Above: Departure day for Mingulay II, R to L. Ian Wright, Nick Brown and Nick Deeley and a visiting kayakist.

Left : John Taylor plays a tune

The expedition medic Ian Wright butchering a dead sheep which had been harassed and killed by Greater Black Backed Gulls!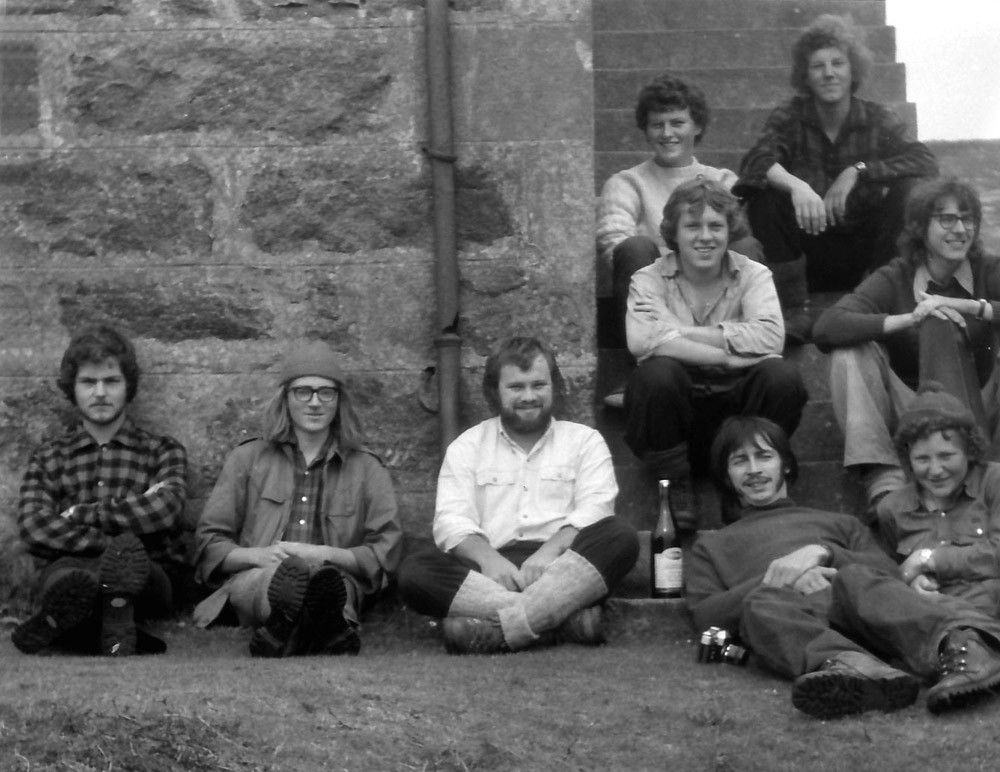 Mingulay II 1975-
top, LR: Andy Stone, Tim
middle L-R: Nick Brown, John Taylor -
bottom row, L-R: Tim Ball, Ben Buxton, Nick Deeley, Ian Wright, Paul Coleman
Photo (and names) supplied by Ben Buxton [Some confusion as there should only be 8 expedition members and there are 9 in photo?]