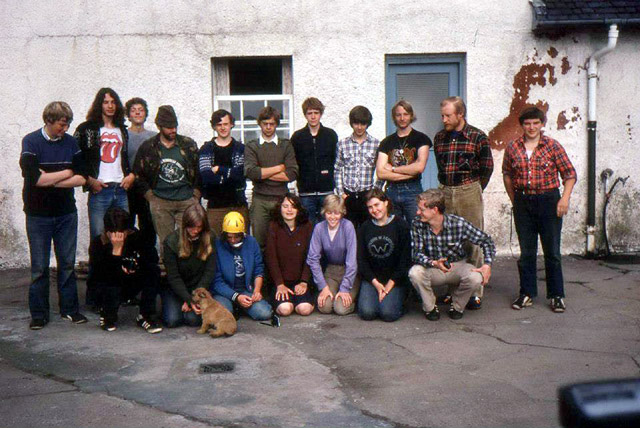 Tim, Steve, Peter, Dougie, Roger, Jeremy, Ian, Paul, Alan Smith (Leader) Rob.
Front row- Simon, Ceri, Judith, Bridgit, Nicole, Alison and Ashley (me [Joanna] taking photo)
Jonathan?
The Ridge Walk
Jonathan Orr, Roger Gilchrist, Joanna Walker, Tim Scrimshaw.
Being the only female among; the first group to do the Rhum Ridge walk which is about 13½ miles with 6,000 feet of ascent, I have had the great privilege of being; asked to write it up.
As far as I know no previous female member of the SHS had completed the ridge walk; so in an attempt to prove that females are no weaker than males, I foolishly volunteered to accompany sergeant major Orr (disguised as expedition medic), on the big walk. Having done the first three mountains already, I felt fairly confident that I would make it.
Setting off at a cracking pace along Long Loch, my calf muscles were complaining and on the almost vertical ascent of Barkeval I wondered if I was going to make it.
However, the top soon came into view and I knew I had to keep going now. I could see all the other mountains; a magnificent sight and determination welled up inside me. Down the coll, then up Hallival – a slightly less rigorous way than Simon had taken us; no rest on the top and straight down the next coll. The scramble up Askival was quite tough but once on the top when the cloud had cleared, the lunch time views were something out of this world; the Outer Isles, Ardnamurchan, Knoydart and the Cuillins of Skye were all in view.
Soon we were off again. Up Trallaval we trudged and after stopping just long enough for Roger to take a picture, we retraced our tracks then clambered down around the base of the mountain to the next coll.
A survey of Ainshval by our leader told us we ought to be able to make it up what looked like an extremely difficult slope, if we went up the edge of some scree; knowing this to be the last real climb, we quickly got to the top. The gentle walk onto Sgurr nan Gillean and then along the ridge to the base of Ruinsival gave us a break from climbing and some great views of the island. Tiredness was now beginning to show and, although the climb up Ruinsival was not very steep, it almost finished me off.
Coming down was hard going too, but once across the Harris river and onto the track, the going was much easier. We soon arrived at camp, just in time for the evening meal, to proudly announce our accomplishment which had been achieved in 8¼ hours.
Joanna Walker