Officers: Roger Bray, Chris. Dawson, Roger Dennien, Dan Hearn, Jimmy McCully, John Shipman and Brian Lowe.
Boys:
John Bin, Roy Carr, David Cullingford, John Cullingford. William Davidson, George Gandy,
Colin Haines, Mark Hayden, Lyulph Hesling, John Houghton, Robert Jones, Roger Jones, John Lace,
David Leathley, James Norman, Michael Ogden, Angus Pimblett, Barry Smith, Hubert Staub, John Stirrup,
Stephen Thompson, Robert Warrack, David Wilson, Richard Wilson, David Wrigley and Nick Yates.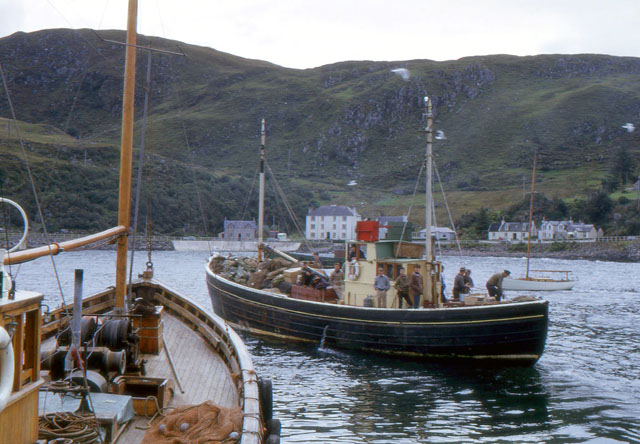 LEADER'S REPORT
On looking back on this expedition, I think the first thing which will be remembered is the extraordinary atmosphere of good will and co-operation that existed amongst everyone. With such a feeling prevalent it was impossible for South Rona to be anything but a success. We were lucky of course, in several ways. Many of us had been on expeditions before; for many this was their third year, and for Roger Jones it was the fourth S.H.S. expedition. We were ex­tremely fortunate in having such an excellent group of "novices", both boys and officers.
Unlike previous years it is difficult to pick out any particular incident around which the expedition revolved. We were spared any gales while actually on the island—perhaps we missed those wet but highly enjoyable night watches which we had on Rhum last year but I for one, and I suspect all the rest of us on board the "Dougal's", will never forget that passage from Mallaig to Tober-mory -especially the section from Eigg to Ardnamurchan! The highlights this year were on a smaller but more continuous scale. Comic and amusing incidents abounded. For the first three days we had no cutlery—it had gone to Raasay by mistake—and many tried to carve wooden implements (commonly called spoons!); others simply ate stew with their fingers! Road building feats reached a new zenith in the B.1. A twenty-four hour watch was kept on our tide gauge in Big Harbour, and it recorded a tidal range of seventeen feet. Sending messages on the V.H.F. proved difficult.
The South Rona Group produced music, the like of which had never been heard on the island before. I sprained my ankle and had to spend a week on crutches—made by a Frenchman out of Scottish wood for an Englishman educated in Ireland, as the staff of Broad-ford hospital were quick to point out! The F + + +-a men, drilled by the "Doc", erected 165 yards of sheep fencing for the grazing tenants, meteorological records were kept at two separate stations on the island, corrections were made to the 6" O.S. map, a new, and more detailed chart was made of Big Harbour, fishing was more successful than in previous years, and what expedition could ever boast such a magnificent six hole golf course with so many "natural'' obstacles? The "Orcadia" (did someone change its first letter?) undertook prodigious tasks when her engine deigned to work and when she was not beached for repairs.
I believe that this expedition proved that many of our teething problems have been resolved. Much, however, still remains to be decided on the nature and purpose of the practical project.
In conclusion I should like to thank the Department of Agriculture and Fisheries, the Admiralty and the grazing tenants for the use of the island, and the lighthouse keepers for their help and hospitality.
John Abbott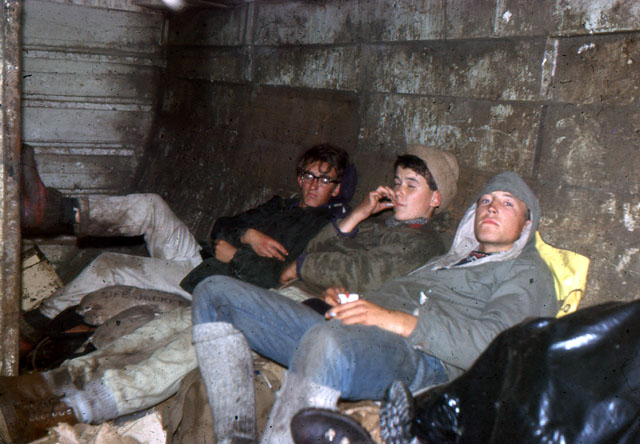 Another great selection of photos, thanks John and Tom Abbott, there are more to upload when I get time.

If you can name anyone in these photos, please contact me, it would be good to put some names to the photos.

Nick