South Rona 1971
SOUTH RONA EXPEDITION 26th July- 15th Aug 1971
Age 16-17
Leader: Roger Weatherley
Officers: Mark Rayne, Greg Surrell, Mike Cunliffe Lister, Nigel Padfield.
Boys: Simon Manning, Timothy Bell, Brian Mahler, David Stredder, Richard [Ian?] Tope, Michael Griffin, George Sloane Stanley,
Nigel Oates, Philip Slatter, Ian Gough, Christopher Collins, Kevin Jones, Stephen Gibbins, Nigel Saunders,
Keith Broadbent, Paul Gill, James Livingstone, Joe Neal, Stephen Pope, Graham Holdup, Ian Burgess.
The name Richard Tope appears in the expo membership in the 1971 report but Ian Tope is used for reports he's written. Also Mark Rayne has labelled his photos a Ian?
LEADER'S REPORT

Where to begin? At the beginning. Well, the beginning was hardly promising. We set off without a work boat, with the wrong fuel for the boat we did have, and with the prospect of an enormous manual grind moving equipment from Big Harbour to the Camp-site. Through the leader's incompetence we had almost left the personal luggage on Euston Station, and it was midnight before the last members of the Expedition finally set foot on the island - tired and convinced of their own insanity (and mine). What happened next is a credit to everyone. Looking back, this testing time at the beginning set the tone for the rest of the Expedition. The equipment was moved, and our occupation of Dry Harbour began - gas cylinders, black boxes and all.

All of us found South Rona a superb island. Looking ridiculously small on the map, it yielded much project material and many recreational opportunities. There were fifteen different pieces of project work - including comprehensive studies of ornithology, settlement at Dry Harbour, seashore ecology and geology. We (or some of us) actually enjoyed bathing in the rock pools; Nigel Padfield and Mark Rayne led some climbing; the fishermen broke the Raasay pollack record from 1964 - and the music was very good. Greg Surrell & Co. sketched beautifully. Paradise!. The initial grind was more than worth while.

Summarizing the expedition concisely is very difficult. From what may be read elsewhere it is clear that we were very active and that the island has great potential. Yet we were limited by a lack of equipment – especially boats and canoes, but also good climbing gear. This said, however, I must applaud the spirit of resourcefulness which developed - in true S.H.S. style! We faced and defeated many problems, and lived creatively to the limits of our environment. From the shore and our inflatable dinghy, kindly loaned by Mr Livingstone, some of us fished enthusiastically (and one of us was pulled in by a monster). We sang, discussed, baked 72 lbs. of bread and ate it all; we marvelled at the skill of the sheep dogs when the flock was rounded up for shearing. We were amazed by the ruggedness of the island; we enjoyed a few glorious days in otherwise showery weather. I never heard anyone complain unjustly. Of course, the Expedition was full of individuals, each one with the freedom to pursue what he thought valuable. For many this involved really serious project work, and the standard reached was very high. Some others passed a more relaxed time, mainly staying quite close to the camp. I only hope that everyone was equally stimulated by what he did regardless of his disposition.

Thanks to Mark Rayne for the Photos.

Loading the M.V. Loch Arkaig at Kyle, note the S.H.S tea-chest, and one of the 'black boxes'. being loaded. Kyleakin is in the background. Nigel Padfield in the yellow socks.

Photo: Mark Rayne
Sketch of South Rona camp site by Greg Surrell

Singling individuals to thank is invidious but I must mention the officers. They were few in number, but magnificent value, and the success of the Expedition owes a lot to their hard work. There are many others to thank, too - Mr Cameron and the Crew of 'DANCING CLOUD' for transporting us so efficiently; Mr Edwards and the Applecross Estate for the use of their boat; Mr Thorburn and all the lighthouse keepers on Rona for their untiring hospitality and interest in us and, of course, the Owners of the island for allowing us to come. Mr Robson and Mr Frazer allowed us to use the Scout Hut in Kyle and we thank them sincerely. Finally, the 'backroom' staff within the Society without whom no Expedition is possible.

On the last Sunday of the Expedition some of us went across to the cave on the east side of the island to think about man in his environment. Here, feeling the purity and power of Rona, we found civilised man healthily in perspective - we valued the privilege of viewing our Society from a distance. We were all genuinely sorry when it was over. As we sailed away with 'DANCING CLOUD' under full sail and engines, Rona seemed so small and low in the sea. It seemed incredible that we had lived there for nearly three weeks, yet all of us had memories which proved the time well spent. Perhaps it will be the sunsets over Skye, the remarkable mirage over the Long Island, the cave, the climbing, a rock pool or the seal colony which will provide the most lasting memory for each of us. For myself, I remember lying in my tent late one night when only a couple of musicians remained up. A ballad drifted out from the marquee - softly, barely audible -

... and the vision that was planted in my brain

still remains -

the sound of silence ...

I hope Rona planted one vision at least on everyone who came.

-Roger Weatherley
| | |
| --- | --- |
| | |
The advance party checking equipment at Fort William. Photo Mark Rayne

Dancing Cloud approaching S Rona, all the paraphernalia of an S.H.S expedition on board.

Photo; Mark Rayne
Unloading equipment from Dancing Cloud at Big Harbour. Photo Mark Rayne

Dancing Cloud in Big Harbour, South Rona.

Photo: Mark Rayne
Nigel Padfield belaying on a climb near the camp. Photo Mark Rayne

The campsite, Dry Harbour. Photo: Mark Rayne

The following photos were added on 20th August 2013 from the collection sent to me by Mark Rayne. There were around 150 for this expedition so I have cleaned up some more of them to submit here. Also, as there are photos to illustrate various aspects of project work I have in some cases included the write up of the project from the 1971 report.

Shoreline ecology (pos. Nigel Saunders, Bunge Livingstone?)
Shoreline ecology project with transect (see report below)
View over Big Harbour
Ruined croft.
Top of South Rona
James (Bunge) Livingstone and Richard Tope
← Richard Tope (both photos labelled Ian Tope?)

George Sloane Stanley and Philip Slatter

Service in the cave
End of the service in the cave
Gas bottle delivery.

Burning the rubbish in the pit, Roger Weatherley with the fuel can.

Greg Surrell (bearded) Roger Weatherley (arms out) and others inside the marquee.
Food time in the marquee.

More photos to be added soon
ECOLOGY
The ecological work on Rona was performed sometimes with unnerving enthusiasm. For example, when one of your associates starts spouting the Latin names for genera and species as though he has a peculiar speech impediment, you begin to wonder ... Or you pick up a common mussel (or so think you) and someone yells 'Mytilus Galloprioinoialis'- this sort of thing can get on your nerves.
The seashore ecology did, however, prove to be good partly because we had two or three exceptionally low tides when we discovered many things that ware not found otherwise, and people spent many long hours just pottering about looking for new things.
We completed a transect across Dry Harbour - a transect being a form of studying the quantity and variation of forms of life in a certain area. Across the area to be studied a length of string is stretched and at intervals along this (every five yards) a one foot square quadrant is thrown ran­domly five times. A record is made of all the animals and plants found in each square. Thus at each five-yard interval out of the five times the square is thrown, any organism can appear 0-5 times, giving a quantitative idea of the distribution of that organism in a certain area. The results can be plotted on a kind of graph.
During the few days with very low tides some unusual sponges were found, and good specimens of the squat lobster and broad-clawed porcelain crab. Also a large edible crab that was changing its shell, and many varieties of fish ranging in size from 1/2-inch to 1 foot. To most of the people involved, this kind of work was new, and we hope gave them a pleasant first taste. A full list of all animals and plants we recorded appears in a separate report.
- NIGEL SAUNDERS & BUNGE LIVINGSTONE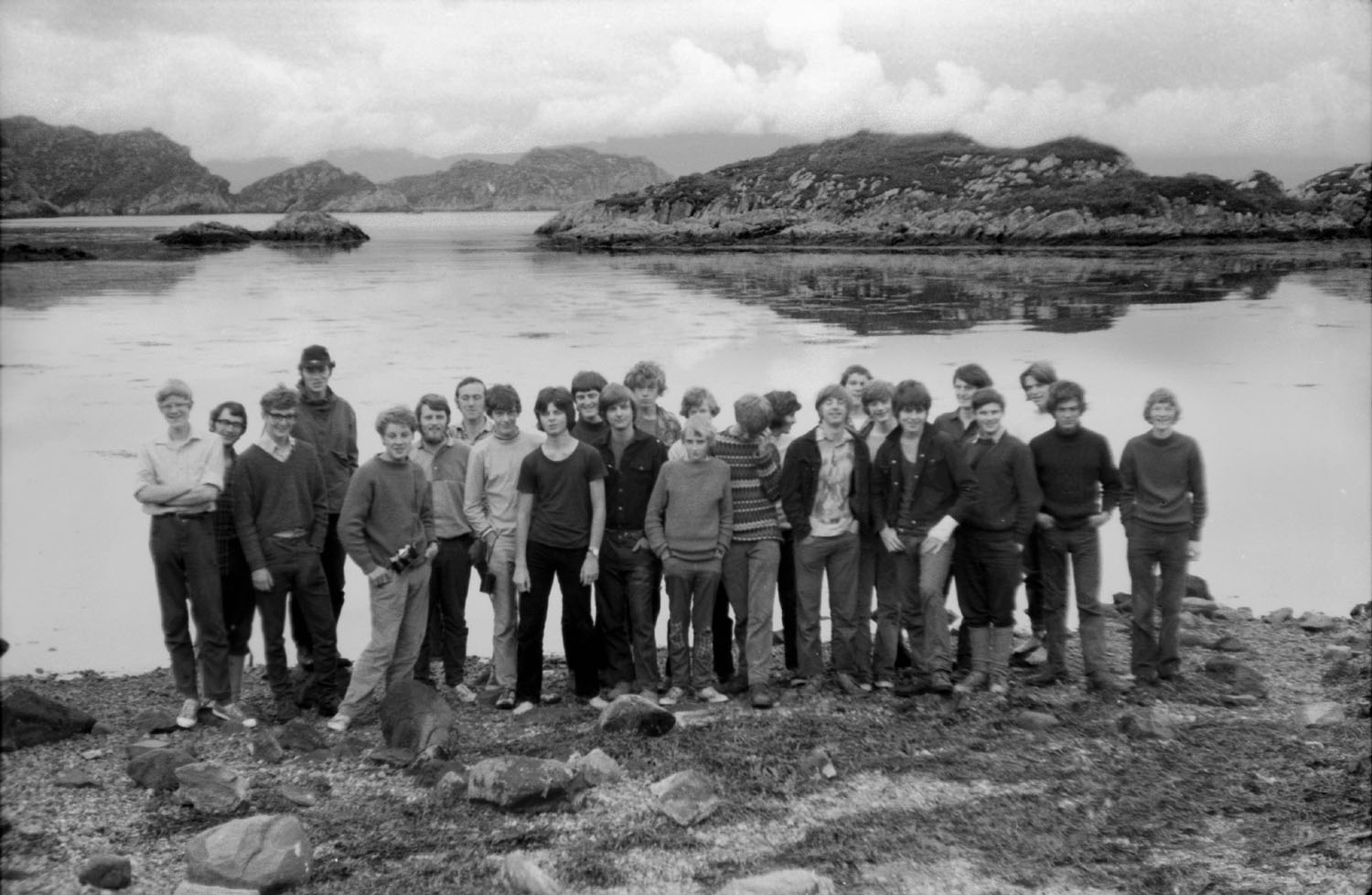 Group photo of the South Rona Expedition 1971.
If you can put names to faces please contact me (e-mail on Home page)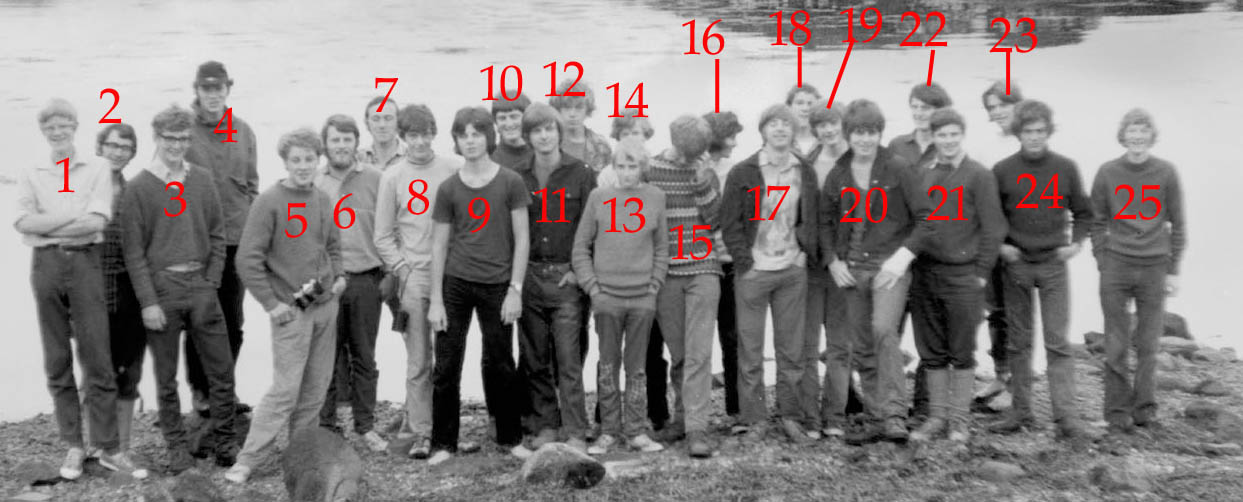 1, 2, Mark Rayne 3, 4, 5.Mike Griffin 6, Greg Surrell 7,Nigel Padfield 8, 9, 10, 11, 12, 13, 14, 15, 16, 17, 18, 19, 20, 21, 22, 23, 24, 25, David Stredder
---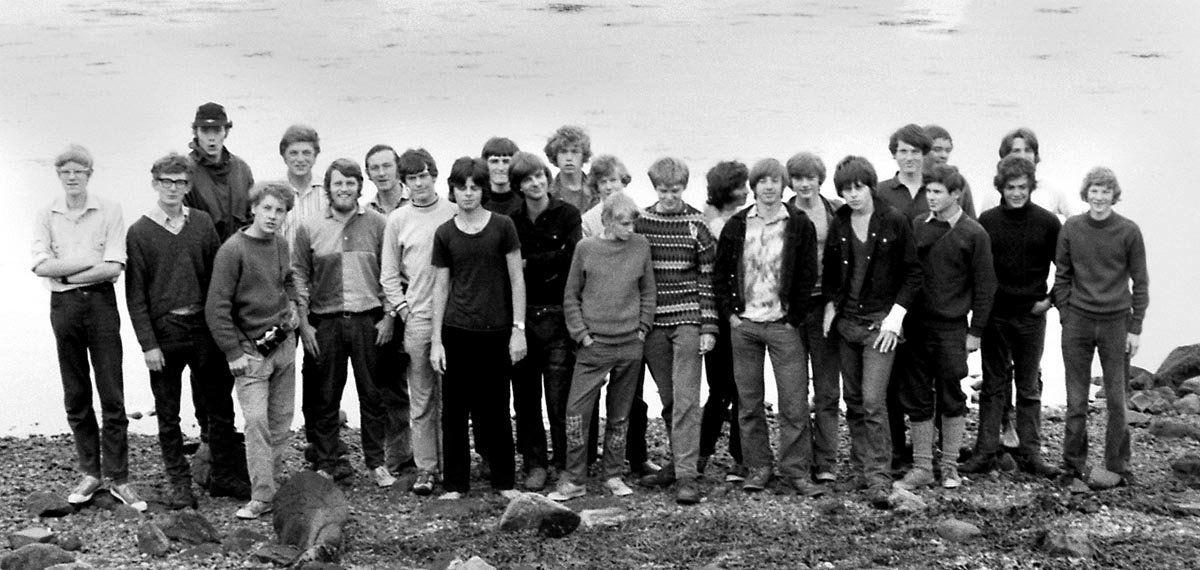 A second group photo - essentially the same but now Roger Weatherley is 5th from left and Mark Rayne is absent.
The following were David Stredder's recollections from the trip. Thanks for this David.
"There are a few vague names from the South Rona expedition of people who could have been at my school (Kent College Canterbury) but there are two who I definitely know. On the group photo I am the one on the far left [right as viewed] of the group with hand in pocket. Mike Griffin is fifth from the right [left as viewed] with the camera. Nigel Oates was also a contemporary of ours but I can't identify him."
"Recorded in the report of the North Uist expedition was a nightmare overnight trip by canoe & walking that I went on with a planned bivvy but the Hebridean weather with horizontal rain turned it into an endurance trek & we were lucky it started after we had parked the canoes and found a welcoming school house to stay the night. Same weather on the return. More than 40 years later I still have a vivid memory of it!"
Mark has kindly supplied ~150 photos of this Expedition, I can't put them all on the site but have created this collection of photos. I'll add some more later.
Click a photo to see the larger version and use the browser 'Back' button to return here after each photo.
Bonfire builders near campsite
Path from Dry Harbour to Big Harbour
Searching for butterflies
Departure from South Rona