Leader: Alan Evison
Camp Administrator: Humphrey Southall
Officers: Peter Foulkes, Gyles Glover, Stephen Mack-Smith, Clive Martin, Andrew Todd, Jeremy Turff.
Boys: Nicholas Allen, Andrew Brewer, Jeremy Butcher, Nicholas Caplin, Mark Davis, David Deeley, David Denham, Hans Dobson, Colin Gilbert, Nicholas Green, Mark Hopwood, Neil Hyde, David Jardine, Andrew Jeanes, David Laming, Paul Medhurst, Richard Owen, Stephen Paynter, Christopher Price, Nicholas Ryan, Nicholas Showan, Graham Smith, Nicholas Smith, Michael Thirkettle, Patrick Thompson, Christopher Venning.
I do have a few of my own photos from this trip, but I don't have many of the people - why is it that it's only when you get home and see your photos that you realise what you should have taken? Anyway, I'll start with a few photos and then add some memories from South Uist. Hover the cursor over the photo for description or click for larger image.
| | | |
| --- | --- | --- |
| | Through the wonders of the internet I've managed to trace lots of people from the SHS expeditions, especially if they had somewhat less common names. One of those I found quite easily several years ago was Alan Evison and he kindly sent me lots of the photos I've put on the site. During a visit to East Sussex this year (2018) I caught up with Alan again after a gap of 43 years. It was lovely to meet up and reminisce about the trips and what we'd all got up to in the intervening years. That's 2 of the leaders I've met up with. John Hutchison being the other. | |
| | |
| --- | --- |
| I was approached to write 3 articles for 'Back in the Day' which is a monthly newspaper for the Outer Isles, one for each of my expeditions to N and S Uist and Harris this is how it appeared in the paper. Click the link. | Back in the Day South Uist 1975 |
LEADER'S REPORT
I kept telling myself that if things were going wrong beforehand the expedition itself would go off without a hitch. And things certainly were going wrong, My reconnaissance trip in April had uncovered a mix-up over our going to Rhum, making it necessary to switch islands to South Uist. When that was settled the officers withdrew, and ten days before the expedition was due to leave I had a supporting cast of just one. However, Roger Weatherley and John Cullingford got to work, and by the tine we set off there were no less than seven - and as good a crew as any captain could wish to have.
Well, fortunately I was right. There were no serious hitches. Apart from missing high tide on the first day, and having to lug the black boxes a quarter of a mile along the coast to the site, the fates were kind to us. Moreover we were blessed with some really glorious weather towards the end of our stay to make up for a rather damp and foggy start.
Thanks are due initially to Donald and John Joseph McDonald for helping us in so many vital ways, such as ferrying our equipment to and from the site, receiving and sending our mail, and always being available for a friendly word or piece of advice. Without their help the expedition could not have come to Loch Eynort.
I think any lingering feelings of disappointment at not going to Rhum were dispelled when we first saw the site . It lies at the foot of Beinn Mhor, surrounded by hills, looking out over an enclosed, island studded sea loch, and struck one as a special place. It belonged to a different realm from the one of 'telegrams and anger' that we had just left.
Through no ones fault not a great deal of project work was done. (Except by the standing army of ornithologists.) Most of the officers had been recruited a few days before the expedition, and had not had the time to prepare themselves. Nevertheless work was done on seaweeds by Steve Mack-Smith, and a botanical project was carried out by Peter Foulkes with assistance from Paul Medhurst. Nick Showan and Nick Smith mapped the loch above the camp site; Humph did a Settlement Studies project; Gyles (apart from performing his duties as camp doctor, -very ably) gleaned local history between cups of tea; and I did what could be very loosely described as a sketching project. Then there was "Private Eynort" our camp newspaper. [To see scans of these unique journals click the links P E vol 42 No1, P E vol 42 No2, P E vol 42 No3, P E vol 42 No4. Thanks to Gyles Glover for these, I have the original scans if you can't read these but for space saving reasons I have reduced them slightly. Use the browser 'back button' to return here]
However, as I have hinted above, the most substantial work was done by the ornithologists. Two groups went on bivvies to Balranald R.S.P.B. reserve on North Uist; others visited Loch Druidibeg; David Jardine made bird-song recordings; whilst the rest spread themselves widely over the surrounding countryside with binoculars, telescopes, and telephoto lenses. Before four days were up more species had been recorded than on any previous SHS expedition to the site. Perhaps most remarkable of all was the Snowy Owl spotted on Benbecula.
More energetic activities included climbing (under Clive's capable instruction), canoeing (watched over by Jeremy), hill walking (watched over by Beinn Mhor, orienteering (Just because I won they said it was a fix), and murder-ball. Various activities of which I claim to have no knowledge included the cockle-boiling sweep­stake, 'jump the fire', very coarse fishing, and not trapping non-rats. More civilised pleasures included sand-castling 'bogles' to the west coast, bathing under a waterfall above the camp, and eating Gyles's and Andrew's food parcels (sent at regular intervals by anxious parents.) Gyles also claimed to have another project on the go, which consisted of collecting as many bones of as many mammals as he could lay his hands on. In spite of having to leave behind part of a whale's skull (weighing the best part of a hundredweight), he came away with a substantial sack full, containing bits of sheep, cows, porpoises, and possibly, Humphrey.
I shall have many vivid memories of our fortnight on Loch Eynort. In particular I shall remember the Bible readings and prayers a few of us took part in on top of the little hill overlooking the camp one Sunday evening. I shall remember the vast catch of mackerel which fed us all so well for a dinner and a breakfast (what a change from Baked Beans). I shall remember the sudden alarm one night as the stream rose and threatened to flood four tents pitched beside it. And above all I shall remember the mirror-calm of the loch that last morning as we were being eaten by the midges - a memory decidedly more pleasant than the real thing.
Most of us, I think went on at least one bivvy. And I'm sure for many of us the bivvy will be the high-point of the expedition. Each has its private memories.
I felt proud to lead such a pleasant group of people. The general mood of the camp ranged from good-natured to hilarious, with humour both quick and quite un­printable. Thanks everyone, for being such good company - I, at least, enjoyed myself.
Thanks are also due to Mr MacKinnon for letting us stay in the Schoolhouse in Lochboisdale; and once again to Donald and John Joseph.
Finally I would like to express my gratitude to all the backstage workers who made the expedition possible: to John Hutchison for directing the expeditions; to the executive officers; to Mary; and to Kathy for helping with the typing.
Alan Evison
| | |
| --- | --- |
| | |
| On a west coast beach of South Uist, L to R Chris Price, Mike Thirkettle, Nick Smith, Nick Showan and seated on the barrel Richard Owen. | On top of Hecla (I think), L to R, front row -Dave Deeley, Richard Owen, Mike Thirkettle, Chris Price, Hans Dobson, Nick Smith. The two in the back row I'm not sure about. |
A few memories of South Uist. - I remember a salmon being caught by Patrick Thompson and David Deeley, they had spotted it in the stream that ran past the campsite. Arms in the water, they slowly 'tickled' it, I'd heard the expression but didn't really know it was possible. Anyway, after soothing the fish and lulling it into a false sense of security, they finally flipped it up onto the bank. It was cooked that evening, and just about everyone got a bit of it for their evening meal. You couldn't get anything fresher!
I was asked recently by Dave Deeley where it was that 'murder ball' was introduced by 'the Leicester boys', Hans and Richard. I had to think, but came to the conclusion that it was on South Uist, now I have read the report from Alan Evison, it would appear I'm right as he mentions it. What doesn't quite fit is where we played it. There is room behind the campsite, just north of Loch nam Faoileann - the freshwater loch above the campsite, it is relatively flat and it would be a reasonable place to play, but my mental image doesn't quite match the terrain! For the uninitiated, this was a version of murder ball invented by the British Army which is a bit like soccer, except there are no rules. The goal is a post or a spot on the ground where the ball must be placed (not thrown), rather than an open goal. Anything goes except for the use of weapons and punching to the face or groin. I'm not sure the game we played was quite that brutal, or even used a ball. My recollection is more of what might be called a 'wide game', with two teams who had to infiltrate the opposition and get to their base? Whatever it was, it wasn't the modern day version of murder ball which is loosely wheelchair rugby.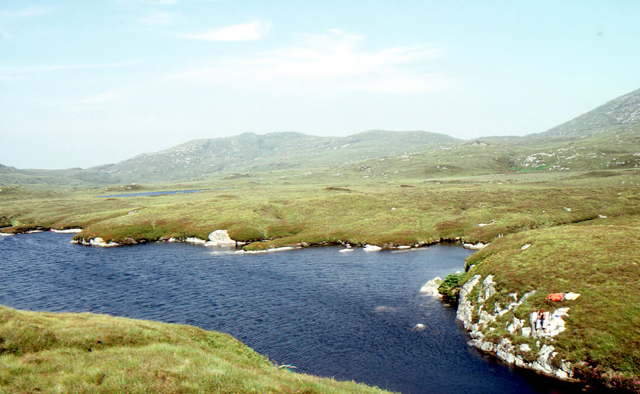 There was a small freshwater loch just above the campsite mentioned above, Loch nam Faoileann, (picture right) and we hogged the canoes to do a 'hydrographical survey' which involved paddling about and dangling a rock on a knotted string to see how deep it was. We did take quite a few measurements and plot them on a map but I think the main objective, a bit like the 'lobster pots' on Harris, was to justify access to the canoes.

Cockle betting, or as Alan describes it quite accurately 'cockle boiling sweepstake' - we (not sure who 'we' were now) gathered some cockles from the bay and wrote a number on them with a pencil. 10 people each bought a numbered cockle for 10p and the cockles were simultaneously thrown into boiling water, the last cockle to open won 50p unless it never opened then it was deemed dead before entry and disqualified so 'we' got to keep the whole £1 - the detail might be wrong but the sentiment is correct. I can't see why it didn't catch on, at least you got to eat the looser!

One night the little burn (stream) of salmon fame was close to bursting its banks and flooding some of the tents. Some people moved to higher ground or the marquee but nothing really came of it that I can remember.
I also remember three Loch Eynort related incidents - the sea loch just by the campsite. Firstly, me, just messing about, lobbing pebbles as far as I could when a seal popped his head above water, it was a long, long way out and I chucked a stone in its direction and then watched in horror as it fell in an arc from its zenith and hit the seal on the head. I reckon if I'd had another thousand goes I couldn't have done it again!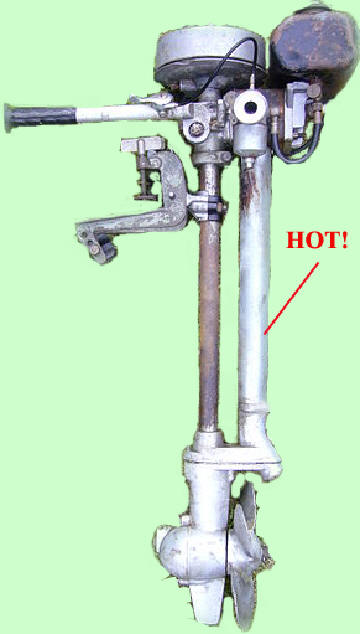 Secondly, in a moment of brain numbing stupidity, whilst trying to secure the rubber dinghy as it puttered in to the shore, I grabbed the nice stainless steel shaft that is a component of the Seagull engine. It looked ideal to grab hold of to drag the dinghy into shore, apart from the fact that it was the exhaust pipe and was at or near to the temperature of the sun. It burnt my hand very quickly, not seriously enough to warrant medical attention but enough to make me scream! Another lesson learnt!
And finally -for the moment, me skimming stones on the same loch and seeing a double splash with my skimmed stone- I realised my watch had come off and landed just behind the first splash of the stone. I actually found the watch by walking out along the loch at low tide the next morning but I don't think it ever worked again.
Having been on five successive trips and then a few years later re-visiting some of the areas in the Outer Hebrides in a camper van, there is now, some 35 years later, a bit of conflation of my memories. It would be very useful to hear from anyone else to clarify some of the confusions. Was it on South Uist that a party of us planted or was it cleared the weeds from around some tiny trees? I sort of remember doing it but I can't quite work out where it was. Also, I have a photo of Loch Corodail from the slopes of Hecla (middle photo of the bottom row of the group above) and the group of 7 or 8 of us on the top of Hecla so we must have gone there and climbed up it but it looks quite a long way from the campsite with Beinn Mhor in between. So it would have been a good 10 mile round trip plus scaling the 606m (1988 feet) of Hecla - I don't remember ever being that fit?
Who did I go on a bivvy with on S Uist? Again, I have vague memories of getting taken across Loch Eynort by the inflatable dinghy and then camping by a small freshwater loch but I also think we camped on a small area of grass near the centre of Lochboisdale so perhaps it was a two night bivvy. I looked on Google satellite images and there is indeed a small area of grass about where I think we camped (by the time the images were taken for 'streetview' the grass had been made into a little park with benches and picnic tables, so I looked just in time).
Alan Evison has kindly sent me his photos from this trip, so below are 18 of them in a slide show, scroll left or right and click on the thumbnail to view the larger image. Alternatively, click HERE for the photos to be displayed on a single page, with some text.
The same merging of memories applies to the members of the trips, if it wasn't for the list of people in each S.H.S report I wouldn't know who had been on which trip, people I'd assumed had been on certain expeditions weren't and so I couldn't have been with them for a given event, or if it was them then it wasn't on the expedition I thought it was. Dave Deeley is a case in point, I thought I first met him in 1976 on the Rhum trip but then realised that he is there on top of Hecla with me in 1975 (orange cagoule) I've been in touch with Dave recently and he has confirmed that it is him!
From Patrick Thompson (Paddy):- "Where to start! -Well, as I said, I fondly remember those S.H.S days. We had some great times and were fortunate to get to such great places. I've been back to Lewis, Harris, Uists and even sat up on Hallival (Rum) with colleagues to hear the shearwaters coming in. It was just as special as the first time. You really must go back. There is a timeless quality about these places – and the beaches -as amazing as anywhere else in the world.
If you have any more of these images – I'd love to have them. I remember me with an 8lb salmon poached in South Uist which my wife has never believed – and of course my daughters have never believed that I had long hair! Ah those days. Of course when I left the Highlands (home of Country and Western & Heavy Metal) I became a punk!
[You've done something not normally associated with fishermen there Patrick, you've underestimated the size of the salmon if Richard Owen is correct - see below: Nick]
Also read someone else reminiscing about S.H.S on web [see Colonsay '68 for blog]. Spot on. Kids don't get to do what we did then. A recurring theme in RSPB - young people don't get to go wild any more - denying them chance to see wildlife. I don't believe all the crap that they are only interested in computer games, facebook and celebs. Give them the chance and they would love camping, canoeing, walking, climbing in wild places.
Well we did! " Patrick.
From Dave Deeley:- "I spotted Paddy Thompson on one of your photos - it was he and I that caught a salmon by hand from the brook that ran through the campsite". The two guys from Leicester Richard Owen and Hans Dobson,- they were a mad pair. They introduced murder ball to us all - do you remember the game? [I didn't until you mentioned it and then Alan Evison sent me the photos above, one at least of which is the murder ball 'game'.]
From Richard Owen:- The Salmon ; "The tide range in the loch was several feet (I reckon 10+) so we would go from no water in front of the camp site to a brimming loch on high tide. The guy who had been our ferry, who I remember as Donald Macdonald (could be romanticising here) had nets set across the loch to catch salmon. One afternoon there was a salmon jumping in the loch and getting close to the burn that ran past the camp site. There was talk (paddy) that salmon jump like this to get rid of sea-lice prior to running upstream to spawn. Later in the evening (long evenings at that latitude) a guy who had gone upstream to sit and read came rushing into the campsite and excitedly told us there was a huge fish in the pool he had been sitting next to. We mobilised to investigate and yes there was a salmon in the burn. This fish had to be caught. The burn was tiny, you could jump across it without a run up so the challenge of getting this fish seemed easy. Some people jumped in and tried to grab it and we then saw the explosive power of the salmon as it bolted for cover. At one point a canoe paddle was belted across the fish's head, but again it accelerated to deeper water. It ended up in a long and relatively deep pool right next to the camp site. This pool had a deep under cut bank and the salmon sought refuge under the bank. I was in the stream with Paddy as he ran his hands under the bank feeling for the fish. We had talked about tickling trout and this was going to be the tickle to end all tickles. He found the fish with his hands and proceeded to slowly work his way along its body until he could get a grip through the gills. Once you have have a fish gripped like this it's all over, however this was a big fish and Paddy was a small person. It bucked and at one point Paddy was close to being submerged before he found the strength to heave it out from under the bank onto the grass. I have a very (very!) grainy pic of P holding the salmon. The estimate was that it was a 10lb fish, it certainly fed us all."
| | | | |
| --- | --- | --- | --- |
| | | | |
| Tooled up for the murder ball! | Dave D, Chris P and Richard O on top of Hecla | South Uist camp site | The Hecla trip bivvy |
These photos are from Richard Owen.

I've not included quite all of them here, two not included were views from Hecla, so similar to two of my own photos that I thought at first they must be copies - but I have my originals and I'm certain I didn't send any to Richard so we must have both stood in very similar spots to take them. I've included the loch photo on the right, also very similar to my photo above in the first block of pictures - but better!

Burn to Sloc Dubh (arm of Loch Eynort)

The bivvy for the Hecla trip